Inventronics is proud to be partnering with leading crane manufacturer, Sarens from Belgium, to help light up their SGC-250.  The "Big Carl", one of the world's biggest cranes, is made of a main boom that can be extended with a jib to allow the crane to reach a maximum height of 250 meters with a radius of 275 meters.  The crane also comes with an industry-leading maximum lifting capacity of 250,000 tons, 5000 tons from the 40-meter lifting position and 2000 tons from a horizontal 100 meters and 775 tons at 165 meters. It's no wonder their crane's slogan is "Nothing is too heavy; nothing is too high."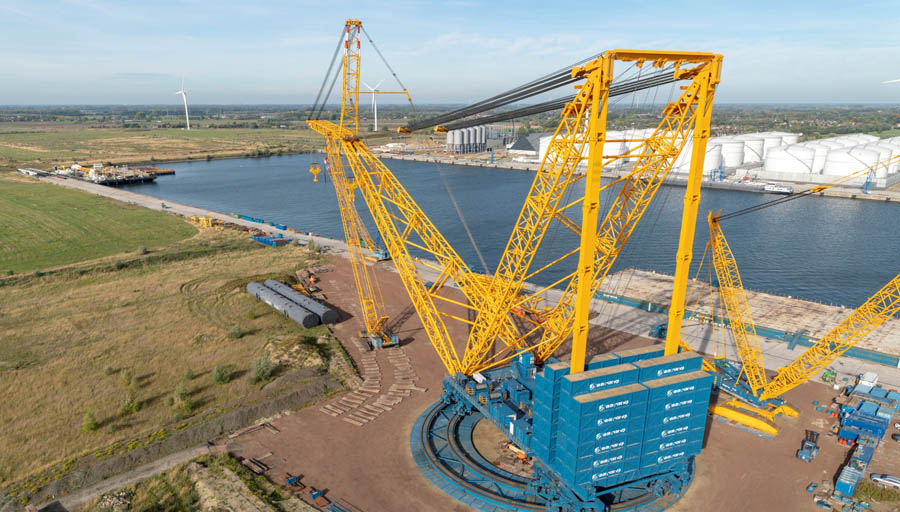 The design of the crane had to include a way to power LED lighting to ensure work can be done during the late-night hours and early mornings when projects required it. Working with Inventronics' distributor Elincom (www.elincom.nl/english/) the EUD-480SxxxDV series was selected.  The driver meets European and world standards, is CE-certified and provides an IP67 rating and rugged metal housing to deliver an increased electromagnetic compatibility (EMC), water resistance and protection against corrosivity which is important since these cranes are exposed to harsh conditions and elements such as dust, dirt, winds, rain, snow, and high heat.  They also offer superior surge protection, better thermal performance and high efficiency and reliability.
The EUD-480 paired with the Citizen COB provides a controlled and uniform light distribution over large areas to create a safer work environment since the lighting can be directed where it is needed such as on the load, workspace, or facility.  They also help to reduce energy consumption and aren't prone to damage from vibrations.
In addition to rugged and reliable products, Inventronics has an in-house technical support team and superior customer service. They are a global enterprise headquartered in Hangzhou China with offices in the United States, Netherlands, Korea, Singapore, Brazil, and India, as well as stocking warehouses in China, India, North America, and the Netherlands. They have a global partner network that includes regional lighting representatives and distributors to assist with LED or housing solutions.